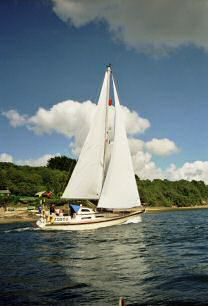 CORNISH LEGEND is a steel Van De Stadt 34′ yacht and has been built to the high standards required by the Department of Transport's Code of Practice for small commercial vessels. These standards include stability tests and all the safety equipment required for an offshore training vessel. She is a bermudian sloop and is very stable and fast. She has a 33 hp inboard engine which gives her a cruising speed of 6 knots under power.
We built CORNISH LEGEND our 34′ yacht over a period of seven years and when we moved out to Brittany four years ago we sailed her across the Channel. After getting her surveyed for the coding of an instruction boat we set up BRITTANY SAILING as a RYA Recognised Sailing School.
There are berths for 4 guests, 2 berths in the forward cabin and 2 berths in the saloon. There is a separate toilet, shower and wash basin compartment and a very smart galley with twin sinks, fridge and cooker. On deck there is a comfortable cockpit with a large locker for the deck gear. The foresail is a furling genoa and the main sail has slab reefing. CORNISH LEGEND is berthed at Camaret on a pontoon berth with good shore facilities and is ideal for crew changes (we do also collect clients from Brest Marina, if they fly in.)
Layout of CORNISH LEGEND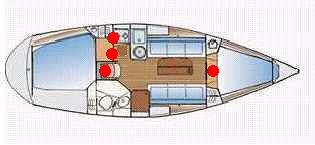 (Hover over the red dots on the layout to see internal colour pictures, on slower connections this may take up to 30 seconds to load)
About The Skipper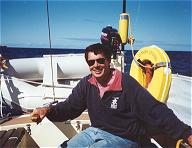 My sea experience started as a Merchant Navy Officer in the 1970's. After getting married we were in the holiday trade and to keep my hand in I joined The Royal Naval Auxiliary Service and after a few years and numerous exams was promoted to a Skipper on their patrol vessels, sailing many miles until the defence cuts decided we were not required any more. It was then that I decided to join the Ocean Youth Club as 1st. Mate and had some fantastic voyages with them, including two Atlantic crossings. While I was doing this I worked on getting my Yachtmaster Offshore, Ocean and finally RYA Yachtmaster Instructor ticket in 1997.
How to Find Us
Camaret is about 1½ hrs. from Roscoff, where the Brittany Ferry docks. There are at least two ferries a day in summer and the crossing takes about 6 hours. The roads from Roscoff to Crozon, which is close to where we live, are very good. We always send a map on how to find us with a confirmation form.

If you do not want the expense of bringing a car over, there are two cheap and convenient ways of getting to us.

(a) Either by flying with Ryanair , from Stansted to Brest (around Ł58 return). Two to three months before gets the best price.

(b) Or by leaving your car at Plymouth (free parking at the Brittany Ferry Terminal) and boarding the Brittany Ferry as a foot passenger (about Ł80 return). On arrival at Roscoff it is an easy journey by bus or train to get to Brest.

In both cases, Richard can normally pick you up at Brest Marina, in CORNISH LEGEND and return you at the end of the course (this is a free service).
Camaret – Sur-Mer
There are two marinas at Camaret. CORNISH LEGEND is normally berthed on the inside one which is the first one you come to when driving along the harbour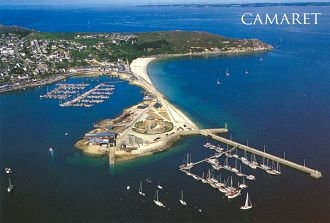 front. (Note : CORNISH LEGEND is easily identified as she has a orange radar reflector near the top of the mast). If you carry on to the outside marina you pass the old fishing boat hulks, that Camaret is famous for, pulled up on the foreshore. On the other side of the breakwater is a lovely sandy beach which is one of many in the area. There is free parking at both marinas. Camaret is beautifully positioned for sailing as it is only about ½ hr. from the entrance to the Rade De Brest and is central for cruising north or south along the Breton coast.
What to Bring
DO NOT bring too much gear as there is a limited amount of stowage place for each crew member

A basic list is as follows:
(a) One set of warm clothes (and a woolly hat) as it can get chilly in the evenings
(b) Couple of pairs of jeans, T-shirts and shorts, etc.
(c) Underwear and socks for the week
(d) Set of shore going gear
(e) A pair of deck shoes or trainers (sea boots are not normally required)
(f) A sleeping bag, pillowcase and towel
(g) Washing kit
(h) Sunglasses and sun blocker for nice days
(i) Bring your own waterproofs if you have got them (we have a few sets but cannot guarantee they will fit perfectly).

All should be packed in a soft holdall which, when empty, will stow easily under your mattress.

We supply a lifejacket/safety harness to each crew member which we wear at sea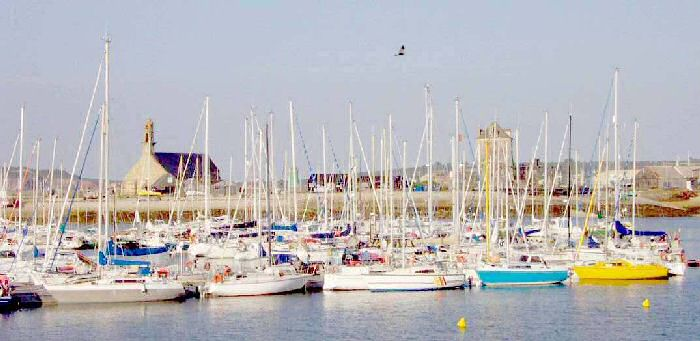 ---
FOR MORE INFORMATION
| Home Page | Sail & Stay | About the Area | Holidays Ashore | Cornish Legend | RYA Courses | Cruising Area
| News and Special Offers | Client Feedback | Availability Form |
French address:
Richard & Sue Curtis, L'Ancrage, Kergalet, 29160 Lanveoc, Finistere, France.
U.K. Address:
Brittany Sailing, 12 Victoria Park, St Mathew's Hill, Wadebridge, Cornwall, U.K
.
French Tel No. 0033 (0)298170131
Email: [email protected]
Designed & hosted SaiLinks